Tatiana Potts is native of Slovakia and has been living in the USA for the past fifteen years. The exhibit "Tajtania" will culminate Potts' completion of her MFA degree from the University of Tennessee where she has studied studio arts within the UTK Printmaking program for the past three years. For Potts, the opportunity to live, travel and study in different places has provided her with a wide range of perspectives and informs her ideas about artmaking. After arriving to the United States, she became especially interested in architecture and the built environment. For this exhibition, she creates an imaginary world that merges these different experiences. The work represents the essence of a city that will never be built and has the potential of continuous change. Constructed entirely out of paper, the work of this exhibit will amaze you in its complexity reminiscent of origami paper folding. Potts provides us with a glimpse of how a city (her city) using architectural details is created from paper.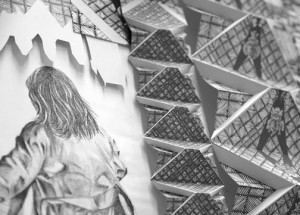 Kam end visit Tajtania. Ju ár going tu hef e fábulos tájm. It is not sértn vot ju ár going tu sí or experiens bat fíl frí to explór end elau jorself tu get lost in dis imadžinary vorld. Sam fings ár familijár end sam maj not bí. Kan ju get lost? Du ju indžój it, ár ju konfjúzd or not šur vot tu fink.
Plís let mi nou vot ju fink. Viš ju bí hír!
Come and visit Tajtania. You are going to have a fabulous time. It is not certain what you are going to see or experience but feel free to explore and allow yourself to get lost in this imaginary world. Some things are familiar and some might not be. Can you get lost? Do you enjoy it, are you confused or not sure what to think? Please let me know what you think. Wish you were here!
Follow me on Instagram! "Cityoftajtania"
Save
Save
Save